Arab-European League Cartoons #4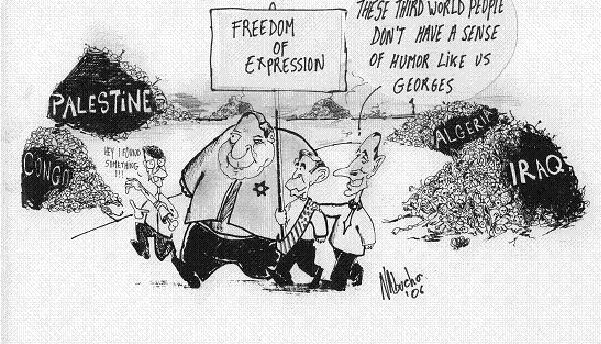 The controversy over the 12 caricatures of Muhammad published by the Danish newspaper Jyllands-Posten exploded into a global scandal, complete with angry demonstrations, and defiant republications of the cartoons in newspapers across the globe. The Arab-European Leage has begun publishing cartoons (with the requisite discalimer that it does not necessarily endorse their content). Their aim, is to publish cartoons that challenge "sensitive issues to Europe like the Holocaust, anti-Semitism, homosexuality, sexism and more," the lampooning of which they say scandalizes Eurpoe's elite. Their response is a series of sexist, misogynist, anti-Semitic and homophobic cartoons.
RETURN TO FEATURE



The following images were published by the Arab-European Leage in response to the cartoons published in Denmark's Jyllands Posten newspaper, which sparked the furor among Muslims globally. The reason they are being displayed here is not to provoke, despite this site's name, but to allow our users to make an informed evaluation themselves. For the same reasons, we published the Danish cartoons, Nick Berg's beheading and James Kirkup's poem. After two federal court cases, one before the United States Supreme Court, Annoy.comís hard fought commitment to free speech Ė not an automatic guarantee, even in the West -- cost a lot in terms of time, determination and resources.

In the name of Christianity, Clinton Feinís image of The Last Supper was ripped off the wall of a San Francisco gallery. Just prior to the 2004 election, his image of President Bush, Who Would Jesus Torture?, depicting the President as Jesus on a crucifix (along with an image of the American flag using the text of the Pentagonís official Abu Ghraib report ) was destroyed deliberately by Zazzle, the Palo Alto based printing company. Despite such visceral responses, not to mention the sentiments expressed by those over the Internet, Annoy.com published because we believe strongly in free speech.

We are not oblivious to the fact that religious and cultural differences are far more complex than anything we could articulate in this small space, but our fundamental belief is this. Freedom of expression is not reserved for those wishing to express their religious beliefs, but also those who question them.