An opportunity to honor Annoy.com for their blatant exploitation during this historic time...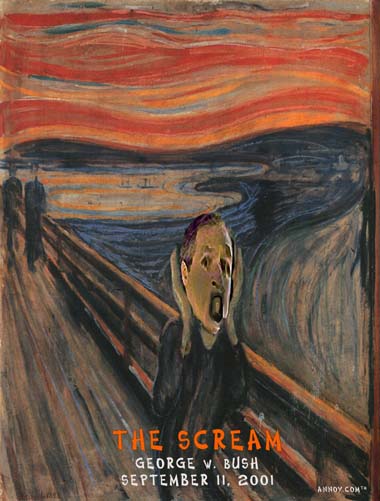 Annoy.com, today announced the sale of a commemorative image of President George W. Bush on September 11, 2001 as interpreted by the site's Editor and Publisher, artist Clinton Fein. The image draws on the famous 1893 work by artist Edvard Munch, 'The Scream.' With its blood-evoking sunset and shrieking figure, it is one of the most powerful images created in the Expressionist movement.
The poster was released to counter the controversial image being hawked by the Republican Party to raise money for the President's Dinner 2002 by selling a September 11, 2001 image of the President aboard Air Force One, on the phone with the Vice President, Dick Cheney. Critics accuse the Whitehouse, who granted permission to use the image, of shameful exploitation of the events of September 11 that undermines the War on Terrorism, while many politicians of all stripes have distanced themselves from the fundraising effort. A letter from Mr. Cheney called the fundraiser "an opportunity to honor President Bush for his courageous leadership during this historic time."
Annoy.com released for sale a limited edition of ten 36" x 48" archival quality, state-of-the art color photographic Type C Prints as well as limited edition posters, individually numbered and signed by the artist for $150.00, the same amount the Whitehouse is pawning their version. Unsigned versions are also available for $89.00. A portion of the proceeds will go towards non-profit organizations that have been hurt, rather than helped, by fundraising related to September 11, such as cancer, AIDS, and civil liberties. The remainder will go to a continued and sustained effort by Annoy.com to exploit every tragedy on the planet to expose the hypocrisy inherent in our various systems -- at home or abroad -- and the politicians and media whores that feed it.
"I have no doubt I will be criticized for this image," said Clinton Fein. "Go for it. The point I am making is that on September 11, the pain, terror and anguish evoked by my image of President Bush more accurately reflects the President's state of mind on that day if one is to study his actions. Suggesting the President acted bravely and decisively on September 11 is not patriotic, it's delusional."
BUY A SIGNED POSTER OR LIMITED EDITION LAMBDA TYPE C PHOTOGRAPH.
(Using ApolloMedia's secure server)